Facebook, Twitter, and LinkedIn for your business:
Do you own a small business? Are you worried about your business due to a lack of marketing and sales? Or even if you are facing low consumer interaction, we have an ultimate solution for all these small business issues, when comparing Facebook vs Twitter and LinkedIn.
Being active on these social media platforms brings many advantages and growth for a business, especially a small business. You can accomplish plenty of goals just with your social presence like customer engagement, lead generation, audience expansion, sales drive, increasing web traffic, providing customer service, gaining insights and customer feedback, and much more.
Small businesses all over the world accept the value of social media. However, some companies do not get the chance to put some effort and time necessary to cherish the right presence on the appropriate platforms.
If you have not done so yet, there is still time to put in the efforts into Facebook, Twitter, and LinkedIn for your business and the benefits you will see will be worth the efforts and time.
Now when you know the importance of social media for your small business, it's time you should learn some strategies on how to use Facebook, Twitter, and LinkedIn to grow your business.
What is the difference between Facebook vs Twitter vs LinkedIn?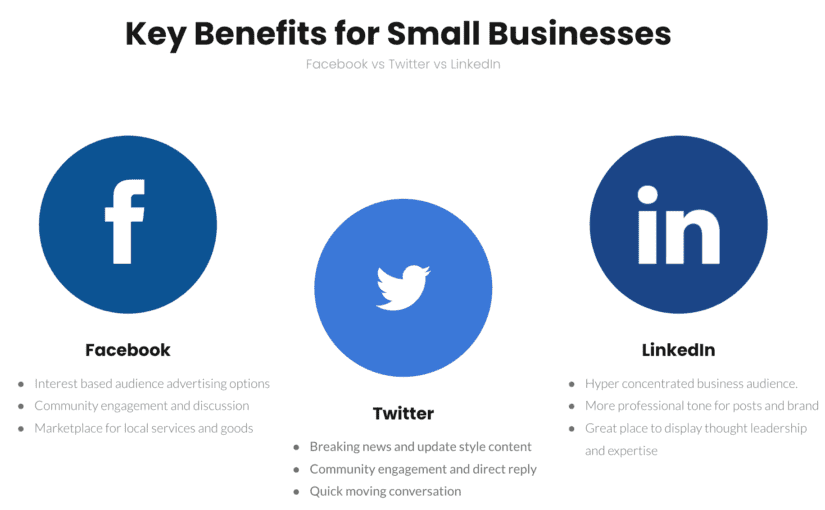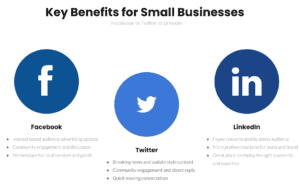 Facebook, LinkedIn, and Twitter are often lumped into the same general category of marketing, but they are actually quite different. Both audiences and the platforms call for slightly different types of messaging and offer small business owners different options to connect with their desired users.
Facebook needs to focus on well-defined messaging geared toward your businesses' audience. Your page can be a place to display thought leadership and well-branded content. Facebook also has powerful advertising tools for small business owners, but beware, these tools can get pricey when not optimized.
Twitter is a platform that embraces short-breaking news style updates. These updates need to have a hook to capture your follower's attention to entice them to click through to your site or landing page. Building strong community engagement through content distribution also helps promote the linkability of your content by being shared across the web.
LinkedIn offers longer post lengths that allow you to create more insightful updates that offer more than just a headline and some hashtags. The audience is business-minded so it's important to match that tone. Business users are also pressed for time, so updates should be concise and to the point.
These platforms have their distinct advantages and disadvantages for small business owners. It's important to understand your target audience to better understand where to reach them.
How to use Facebook vs Twitter vs LinkedIn for small businesses?
As we all know, nowadays, people spend most of their time on their cell phones, while much of that time they spend on social media apps like Facebook, Twitter, and LinkedIn. These social media users regularly interact with the brands and companies they are interested in. This means you may not only utilize this social media free of cost, but your prospects and customers are also waiting out there to hear from you.
This makes social media a way more powerful platform for small businesses that focus on individual customers and community to connect with an audience directly to build brand awareness and loyalty. Moreover, social media platforms like Facebook, Twitter, and LinkedIn are quite useful for lead generation.
With these platforms, you can create resources and content that add value to your customers and prospects, thereby maintaining their attraction towards your brand. As the viewers click on the offer or content, this means they are looking for it, and if they get want they want in your offer, they are more likely to convert into a potential customer that may benefit you in the short or long run. Social media is an easy yet free tool for business. You can directly connect with people interested in your brand, products, or services.
"Click and win exciting gifts" is an exciting and fun way to attract customers.
Though being effortless and free of cost, you still need a proper strategy to use it for your business.
Don't know how to manage Facebook vs Twitter vs LinkedIn? We will guide you.
Before moving towards learning the strategy and how to manage Facebook, Twitter, and LinkedIn, let's take a look into "why?"
Why does your business need a proper social media strategy?
No idea? Let me tell you.
Previously, social media had just a few controls while the business world on social media was totally scant. Back then, businesses could not connect to their audiences directly and finding potential customers on social media was even worse.
But now, the case is quite different.
Now social media has become an integral part of the inbound marketing strategy. Firstly, it has two parts: creating appropriate content and ranking on the SERP for that content, then spreading out the content to the right people and getting them as potential customers for your brand again.
Another important thing depending on the social media platform is to share the right social media content with the right audience. Each social media platform, including Facebook vs Twitter vs LinkedIn, has a specific usage for business and consumers accordingly.
Now moving towards the social media strategies about what, when, and how often to post on Facebook, Twitter, and LinkedIn, let's get started with Facebook.
Facebook for small businesses:
Facebook is among the most used social media with a massive user base of 1 billion daily active users. The figure expands to 2 billion active users per month. Facebook has the benefit of building target audiences more easily through paid ad placements depending on people getting engaged with your organic posts.
What should you post on Facebook?
Facebook is a potentially business-boosting platform. Suppose consumers like your Facebook page; they are looking to receive more updates from your side. In that case, i.e., they want to hear about your products, future sales and promotions, or even get information about upcoming events or launches. You must connect and provide the most appropriate content to the audiences who follow you. Share and see the resonance of different content types by driving the most engagements, impressions, and shares. Once you determine your audience's choice concerning the kinds of content, keep sharing the same way.
How often you should post?
Posting business content on Facebook does not have a definite limit. However, a widespread social media marketing mistake to avoid is to dominate your followers' feed. If you post more than enough, the people may unfollow your account while on the other hand, if you keep your posting frequency too low, your engagement metrics may risk. Based on the amount of content you have to promote, post accordingly. Single post per day proves to be quite an optimal rate for many businesses.
How to boost your engagement?
Don't take your Facebook post too seriously since your followers will see your posts besides other exciting posts. Be calm and keep providing value since your audience has followed your account for a reason. You are supposed to post relevant content for them to consume and eventually get closer to your business.
Done with Facebook. Let's move towards Twitter marketing for small businesses.
Twitter for small business:
The most conversational social media platform out of all other platforms is Twitter, having a massive population of brands and individuals rapidly interacting. There are more than 500 million daily tweets and more than 320 million active users monthly.
What should you post?
Twitter has a limitation of characters per tweet, i.e. 280 characters per tweet. With this limitation, most businesses tweet a wide range of content, including sales, product promotions, funny thoughts, and online contests relates to their field, new releases, and data insights.
How often should you share?
Posting multiple tweets per day allows you to engage potential customers by looking at your post numerous times per day.
How can you boost engagement?
Here is a tip to boost your customer engagement on Twitter. Make sure to provide value in your tweets to your followers and their audience, however, Twitter can support more playful content than other business-focused platforms, including LinkedIn. So when using Twitter to boost your small business, keep it light, keep it bright.
LinkedIn for small business:
LinkedIn is one of the oldest social media platforms having more than 250 million active users every month. It is the most widely used social media platform to share content for B2B (Business-to-business) marketers.
What should you post?
LinkedIn is a platform where people connect with other businesses online. When a LinkedIn user follows your business on LinkedIn, it means they care about the insights, information, and business-related updates you can provide them.
LinkedIn is also a great social media platform for video content. If you create a video related to your product or insight, your engagement rates start boosting.
With LinkedIn, you can also utilize your employees to become advocates for your brand. Utilize your employees and their networks to escalate your content. It is a great way to spread your content to the right audience without oversharing it.
How often should you share?
Post weekly on your LinkedIn account since the post engagement of companies posting once a week increased by 2x.
How can you boost engagement?
LinkedIn is a professional platform to stay connected with each other. Your posts should be helpful for your audience. Share the best aspect of your business and insights your customers cannot get from anywhere else. Post your content with an image to experience a 2x higher conversion rate.
The bottom line:
FacebookvsTwittervs LinkedIn in comparison, are social media platforms highly beneficial for small businesses to boost their growth. You can use these platforms in different ways and a post on Facebook, Twitter, and LinkedIn at the same time. Small businesses-owners must utilize these social media platforms with a proper strategy to see visible growth in their businesses.